Mercury Marine has the boating industry's attention once again with the release of their all-new, trend-setting, and class-redefining V12 600hp Verado outboard motor. (That's a lot of compound adjectives, but as you'll soon see it's worth the hype!)
Aimed squarely at luxury performance customers, this impressive power unit boasts several industry-first features, including an automatic two-speed transmission and a steerable gearcase with no movement from the engine above water. Quiet, smooth and refined, this is surely the ultimate in luxury performance.
Keep reading to learn more, or skip to the end to watch Mercury Marine introduce their new outboard.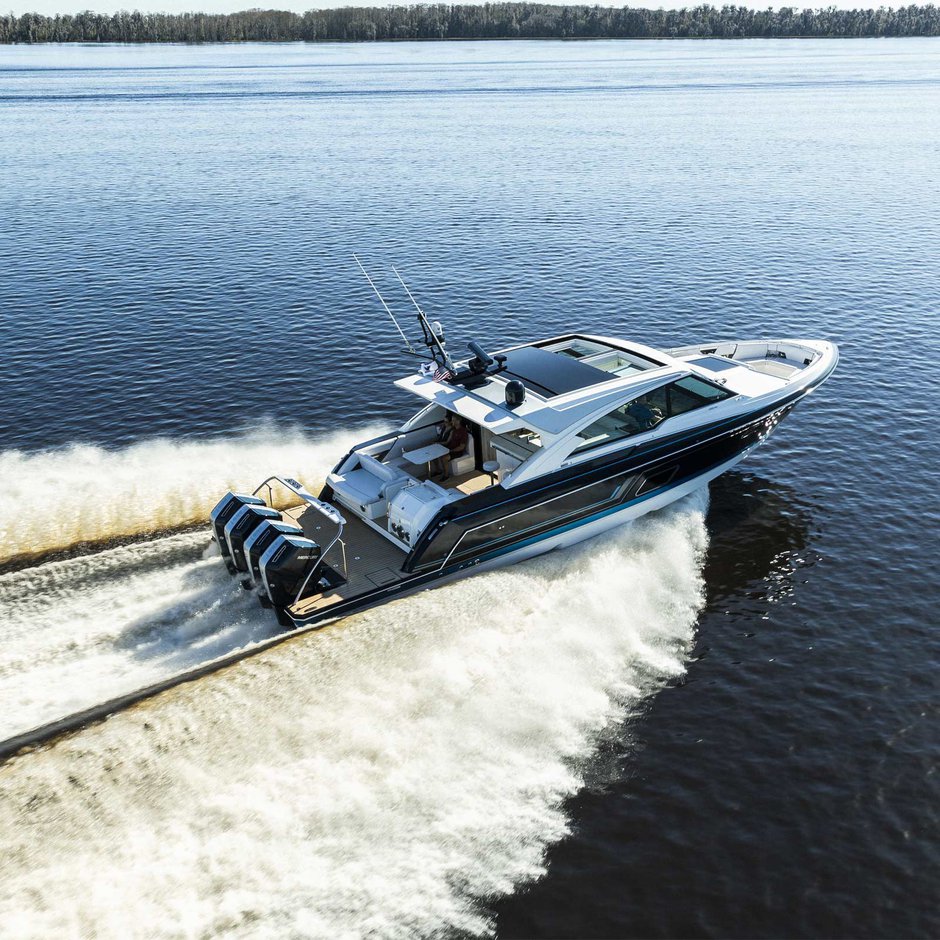 It's why we love Mercury Marine
Ok, so a 7.6L 600hp outboard that weighs 572kgs may not fit on many people's boats, but even so, we can admire and respect the qualities that made this feat of engineering possible.
Coorparoo Marine has a close and long-standing relationship with Mercury Marine, and has sold and serviced Mercury Marine outboards since 1969. Brand qualities such as reliability, innovation and a passion for their customer's boating experience are ones that we share closely ourselves, and that resonates throughout every product they design.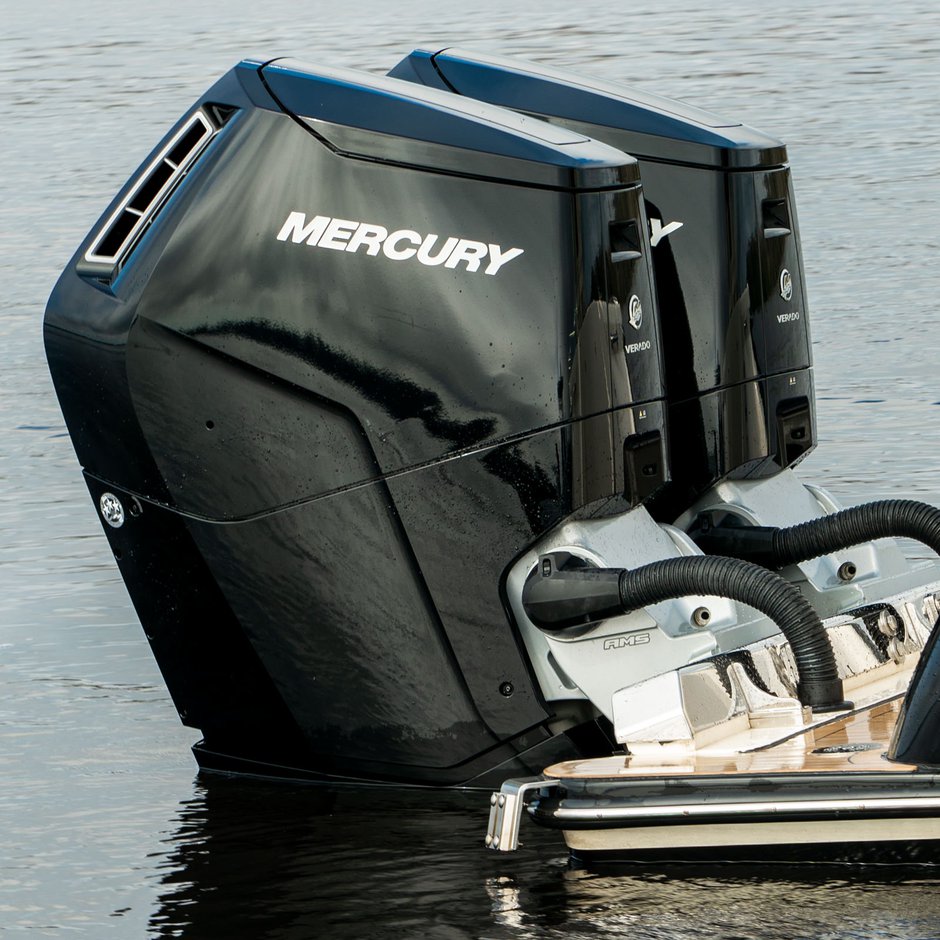 Reliable
This is the most powerful outboard motor Mercury has ever built. Even more memorable is how astoundingly quiet and impressively smooth the engine operates. An impressive feat to be sure, but what about reliability? If power is achieved for its own sake and at the cost of reliability, then any initial excitement will soon be lost. Thankfully, that is not the case here.
The V12 Verado outboard began with a reimagining of what outboard performance can be. The solution is elegant, powerful, luxurious, smooth and quiet, with advanced features that deliver a true luxury experience for recreational boaters. It's also designed to be reliable and powerful enough to meet the demands of our commercial SeaPro customers. This means rugged components, superior hardening and an incredibly high-level of validation, and it's designed to deliver years of reliable performance.
Mercury uses the best alloys, including low copper aluminium that Mercury makes specifically for its anti-corrosion properties, and equips every motor with unmatched corrosion protection. Plus, every engine endures obsessive and merciless testing at Mercury's state-of-the-art testing centre to ensure long-lasting performance.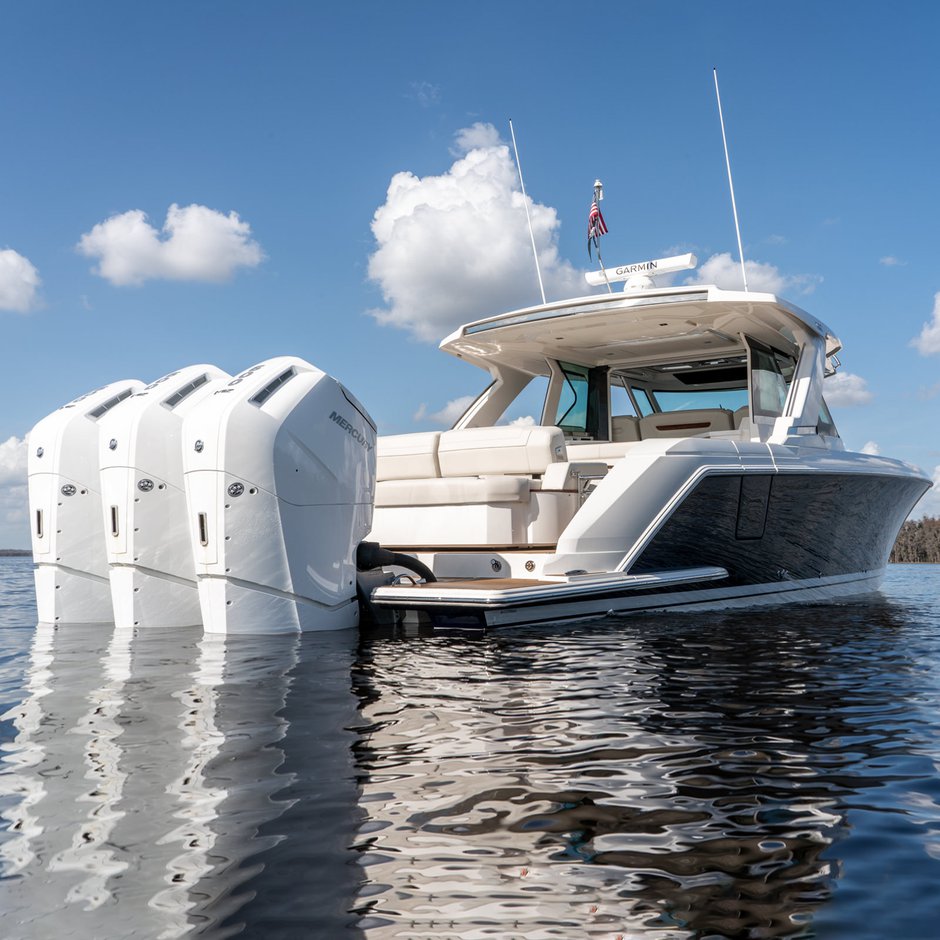 Innovative & Value For Money
Longer service intervals
Regular service intervals on the V12 Verado have been extended to 200 hours of operation, plus 5 years or 1000 hours for additional maintenance. The cowl hood provides easy access for regular servicing without ever removing the boat from the water. Of course, you may always leave your boat servicing to professionals, but either way it means faster and more convenient servicing, saving you time and money.
Twin contra-rotating props
With more power comes a greater demand to transfer the horsepower to the water. To achieve this, Mercury have developed another all-new product: a Contra-Rotating Propellor. Designed specifically to unleash the full potential of the V12, these new props have the blade area and lift required to get large boats out of the hole quickly with better efficiency.
(Source: https://www.mercurymarine.com/en-gb/au/engines/outboard/verado/verado-600hp/)
2-speed auto transmission
Beyond simply "more horsepower", Mercury knows customers want more acceleration and performance. To do this, they built a marine-industry first: an automatic two-speed gearbox. This helps accelerate the boat and get it on the plane quickly.
(Source: https://www.mercurymarine.com/en-gb/au/engines/outboard/verado/verado-600hp/)
Passion For Exceptional Boating Experiences
Noise reduction
Mercury reports that what is truly amazing to passengers is how smooth and quiet the motor is, and the astonishment as they're pinned to their chair with a grin on their face as the boat accelerates. This is thanks to innovations such as a vibration-preventing engine cowl design, noise reduction improvements that dampen induction sounds and virtually eliminate injection noise, and an exhaust bypass that makes the most powerful motor in Mercury's product line unbelievably quiet.
(Source: https://www.mercurymarine.com/en-gb/au/engines/outboard/verado/verado-600hp/)
Independent steerable gear case
In the search for improved steering and an overall easier experience handling a large boat, Mercury engineered yet another new solution – an independent steerable gear case. This means that the engine above the water stays stationary with all steering happening below the water. Also, whereas conventional outboards steer 30 degrees each way, the V12 Verado steers 45 degrees each way under joystick operation, further improving maneuverability. The system is electro-hydraulic controlled for instant and precise maneuverability around docks, and smooth, effortless handling in open water.
(https://www.mercurymarine.com/static/img/stingray/scene3/3_2_Steerable_Gearcase.mp4)
Advanced MidSection
A smooth transition of power is aided by a next-generation Advanced MidSection. "All you'll feel is the horsepower gracefully propelling you forward" is the promise by Mercury Marine. This improved technology is more rugged and refined than any that has come before it, helping the V12 Verado outboard be as smooth and quiet as it is strong.
Mercury Authorised Dealers
Mercury has shown us again why they are at the forefront for reliable, powerful outboard motors. Whatever an ideal boating experience is to you, be it a day in the sun with the family or a productive hassle-free fishing expedition, Mercury Marine has a motor for you.
For all your Mercury outboard sales and service needs, contact Coorparoo Marine Brisbane, a Mercury Authorised Dealer. Our team here at Coorparoo are friendly and passionate, and ready to help you go boldly.
Resources:
Press Release: https://www.mercurymarine.com/en/us/news/mercury-marine-introduces-the-all-new-v12-600hp-verado-engine–redefining-outboard-performance/
Mercury Marine, V12 Verado Product Page https://www.mercurymarine.com/en-gb/au/engines/outboard/verado/verado-600hp/
Mercury Marine website: https://www.mercurymarine.com/en-gb/au/v12/
Cover image source: https://www.mercurymarine.com/en-gb/au/engines/outboard/verado/verado-600hp/
Watch the introduction video by Mercury Marine
Product Specifications
Horsepower
Verado 600hp
Displacement (CID/CC)
Displacement (L)
Cylinder Configuration
Full throttle RPM
Alternator amp / Watt
Starting

Electric Start with SmartStart Protection

Steering

Integrated Electro-Hydraulic Power-Steering

Shaft length

20″ / 508 mm
25″ / 635 mm
30″ / 762 mm
35″ / 889mm

Gearcase ratio
Dry weight *Lightest model available
Trim system